The summit was LIVE May 20 to May 26 2019!
Phases of Practice as a Reiki Student
Friday – May 24, 2019
With Kate Jones
Hosted by Debra Karpek
This session was live on Day 5 - May 24 Get instant access: UPGRADE NOW!
With 30 years of experience in Reiki field and as a founding member of The Reiki Alliance and The Reiki Association, Kate Jones is more than prepared to assist both students and well-experienced Reiki masters toward creating an ever-expanding professional path.
what it means to become a public Reiki practitioner
the development of a Reiki student towards being a professional practitioner – the 3 phases of practice
the development of a Reiki master – the Shu Ha Ri process
To deepen your understanding on this particular topic, you can join us and other Reiki Masters and practitioners from all over the world for more insights, exercises, and discussions on Reiki Rays Community Group.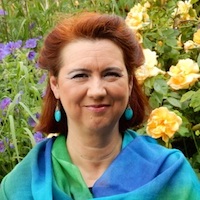 Kate Jones
Usui Shiki Ryoho Reiki Master, Member of Reiki Alliance and The Reiki Association UK
Practicing and teaching Usui Shiki Ryoho in the Spiritual Lineage Usui, Hayashi, Takata, Furumoto. Based in Ludlow, UK Kate Jones first encountered Reiki when she received a series of treatments after the sudden death of her father in 1987. Kate was impressed by how much it helped and, wanting to be able to offer the same benefit to others, studied 1st and 2nd Degree Reiki in 1989 with Martha Sylvester. She began offering treatments straight away and still has an active treatment practice. It became her dream to be able to teach Reiki, so that those she treated could receive Reiki in their daily lives. So when Martha invited her to become a Reiki master Kate accepted with gratitude. She completed her training and was initiated as a master in 1991. Kate has taught Reiki regularly over the past 25 years, including developing a Professional Reiki Practitioner Foundation Course and other Reiki-related workshops.
Kate has participated in many changes in the Reiki community over the years. She is a member of the Reiki Alliance and as a member of The Reiki Association since it's founding in 1991, she's been involved in its development, including:
• 5 years on Council
• representing the Association on Reiki Council, developing standards for UK Reiki practitioners.
• speaking at conferences in Australia
Kate's current voluntary posts include:
• The Reiki Association Practitioner Support team
• The Complementary and Natural Healthcare Council Reiki Profession Specific Board
• Executive Director Group for Reiki Home (Reiki Foundation International)
Website:
www.katejones-reiki.co.uk
Kate's Offer
Free Webinar on the 3 phases of Reiki practice – http://katejones-reiki.co.uk/webinars.html
Get immediate access to all sessions from all days by upgrading to VIP Pass Ticket. The VIP Pass ticket also allows you to download the MP3 files to listen offline, and the PDF transcripts.