Healing Energy From The Past
With Rekhit Kajara
Hosted by Yolanda Williams
Healing the energy of the past is important for us in our present time, as well as for those who are coming behind us. But what happens when we bring in the element of Reiki into it? Learn about Kemetic Reiki and why it is our responsibility as lightworkers to release the energy of the past in order to not only heal ourselves but also help heal our ancestors and shift the collective consciousness.
Revitalize Your Chakras workbook and journal:
www.rasekhistore.com/store/p308/Revitalize Your Chakras: A Healing Journal
www.rasekhistore.com/store/p326/Revitalize Your Chakras: A Healing Workbook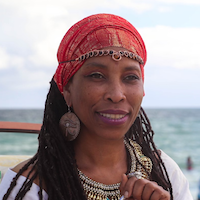 Rekhit Kajara
Founder of Ra Sekhi Arts Temple and Healer of the Ages
Rekhit Kajara Nia Yaa Nebthet is the Author of many books including "Ra Sekhi Kemetic Reiki Level 1", "Ra Sekhi Kemetic Reiki Level 2", "Sekhmet Rising", the newest addition "Healing Ritual Magic" and many more. She has also written articles for three other books: "Sistah Vegan", "Natural Dread of Atlanta", and "Magical Calabash". Rekhit Kajara is a Heal Thyself Ambassador of Wellness, Medicine Woman, Priestess, Community Activist, Afrikan Holistic Health Consultant, Spiritual Warrior, Sacred Woman, Educator, Mother, Tree hugger and Nature lover who has dedicated her life to promote health, wellness and natural living to our community.
She has been practicing and teaching womb wellness and energy healing for over 15 years. She is a natural healer as well as a teacher of all ages for over 20 years sharing lessons in health, wellness, women's health, black history, yoga, and metaphysical sciences. She is also an artist and entrepreneur, who has traveled the US sharing her handmade jewels for over 20 years.
Rekhit Kajara Nebthet was raised in Chicago. She healed herself intuitively at the age of 16 using a technique which is called reiki. She received a Bachelor of Social Science from Florida State in 1993.
Rekhit Kajara was attuned as a Reiki master in 2000 and this journey led to Ra Sekhi Arts Temple being founded in 2007.
Websites: www.rasekhihealing.com
www.rasekhistore.com
rasekhi.bandcamp.com
YouTube: rasekhiartstemple